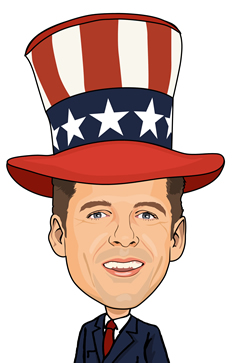 "Architect Of Ideas"
Nicknames: "T-Mack" or "T-Money" by my closest friends and the "Architect Of Ideas" by my business associates.
Birthday: May 25th
Birthplace: Yadkin County, NC
Personal Mission: "Trying to change the landscape of the car business and the bruised reputation of honest car salespeople all over the country."
Business Mission: "I specialize in helping people find, qualify for and own the vehicle of their dreams with little or no money down…even with less than perfect credit."
Last Books Read: "The Disney Way", "PT Barnum: The Legend & The Man" by Arthur Saxon, "The Go Giver" by Bob Burg, "Ronald Reagan: How an Ordinary Man Became an Extraordinary Leader" by Dinesh D'Souza.
Favorite Books: "Uncle Frank Sez" & "YOU Are The Brand, Stupid!" both written by yours truly, "The Traveler's Gift" by Andy Andrews, "The Greatest Salesman In The World" by Og Mandino, "Business By The Book" by Larry Burkett, "Becoming Uncommon" by Michael York, "The Catcher In The Rye" by JD Salinger, "The Martian Chronicles" by Ray Bradbury and anything by Seth Godin.
Frank Myers Auto Maxx Team Member Since 1993. Owner since 2005.
"Hi folks…my name is Tracy Myers and I'm the owner of Frank Myers Auto Maxx. Some folks call me the "Architect Of Ideas".
You may have seen our dealership before…heck you probably passed it several times on your way to work or while you were running some errands.
Anyway, the reason I am writing is to let you know that I am making it my personal goal to get to know everyone in the Triad on a one-to-one basis.
That may seem like a big task but it is one I am committed to achieving. Because of this commitment, I have put together for you a very special "Get Acquainted Gift." This gift is FREE to you with no strings attached and no obligation. It's just a little gift from me to my neighbor – YOU.
This special gift includes my newest CONSUMER BULLETIN: "8 Keys To A Better Car Deal" and a gift card good for one free laser car wash at the local Auto Spa (an $8.00 value).
This is my gift to you and your family.
There is only one way you can get your hot little hands on this very special gift:
1. Come down to Frank Myers Auto Maxx at 4200 N. Patterson Avenue in Winston-Salem and talk to Ashley. Ashley is one of friendly our Family Ambassadors. Tell her you want your special "Get Acquainted Gift." No one will try to sell you anything and the gift is 100% FREE.
Ask Ashley if I am available. If I am, I will personally give you a tour of our fun facility and you'll see why we've been hailed by Michael York as the "Disney World of car buying." The popcorn, balloons, and fresh gourmet coffee bar are just the beginning. Then there's the Family Fun Zone where you can watch the latest kid friendly movies with your family. Oh yeah…and I almost forgot about our 4 acres of cars. Most of them are Certified with a FREE lifetime warranty and our 100% Iron-Clad Money Back Guarantee!
One more thing… if you or anyone you know is looking for a quality pre-owned vehicle or has credit issues they think is keeping them from getting the transportation they need or want – please send them my way. Our business relies on quality referrals form our friends (which I consider you)."
I am proud to say that I am a Christian Business Owner whose goal is to run my business 'By the Book'.