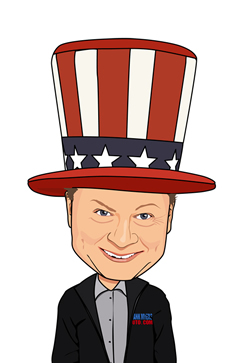 Director of Service
DIRECT:

(336) 831-0656

EMAIL: [email protected]

Family: My wife Lisa and my 5 kids: Jake, Alexa, Garrett, Jessica & Michael.

Nickname: Straight Talk

Birthday January 12

Birthplace: Winston-Salem, NC

Last Book Read: "The Road Less Traveled" by M. Scott Peck

Favorite Book: "Uncle Frank Sez" by Tracy Myers

Favorite Band: Aerosmith

Favorite Movies: Star Wars & Star Trek

Favorite Vacation Spot: "Anywhere there is sand and water."

Best Automobile Advice: "PLEASE change your oil on a regular basis."

Favorite Lunch: "Anywhere with my son Jake."

Favorite Websites: FrankMyersAuto.com, Ebay.com

Favorite Quote: "That's what she said" – Michael Gary Scott

Favorite Sport Teams: "I am the world's biggest Steelers fan!"

Favorite Cars: Ford Mustang

Frank Myers Auto Maxx Team Member Since June 16, 2007
Quality Winston Salem Auto Repair Is A Top Priority For Robert Thomas At Frank Myers Auto Maxx
"My name is Robert and I am the Director of Service at Frank Myers Auto Maxx. I know that dependable transportation is a top priority in getting you and your family where you need to be safely. Just like you need a good physician to keep your body running smoothly and help you through rough times, you also need a capable auto service center that you can trust to keep your vehicles well maintained, and advise you in times of vehicular trouble – at a reasonable price.
Although people excel in many areas, sometimes it's difficult to tell when a minor sounding shake, rattle or roll is a precursor to something more serious, and expensive, down the road. My team of Technicians and I at the Frank Myers Auto Maxx Service Center pride ourselves on honesty and customer service. You know it's truly a different type of service center when you walk in the door. You'll be greeted by a courteous Tour Guide, clean floors and an inviting waiting area with free gourmet coffee bar (serving our Exclusive Uncle Frank's World Class Gourmet blend), free wi-fi, free popcorn and all the current magazines. This is a place that you can bring your children with you and take them home as clean as they came in. There's even some children's books, a wide screen television that shows the greatest family movies of all times and free video games to help entertain them. The same thing goes for your car! It's returned to you clean and free of grease or odors.
The service advisors at Frank Myers Auto listen carefully to your concerns and fully explain needed repairs and/or maintenance, as well as what it will cost, before any work is done – no more sticker shock when the bill is presented! Our technicians are Certified so that most repairs are completed the same day and all are warranted. To keep your day on track, they'll make an appointment that best fits your schedule. And if you need to get home or to work, and back, the shuttle driver is ready to take you to your destination and pick you up for free.
Life can be fast paced, so make it a little easier by calling the service department at Frank Myers Auto Maxx today at (336) 831-0656 and see for yourself the difference it makes when customer service really does revolve around you – the customer! The Service Department also has convenient hours – Monday thru Friday from 7:30 in the morning until 5:30 in the afternoon.
To get your MONEY SAVING service coupons today, click HERE."