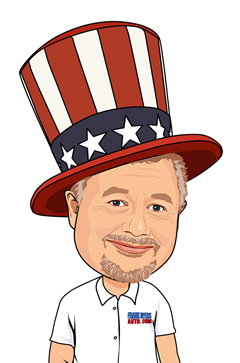 "Head Honcho & Spiritual Advisor"
DIRECT:

(336) 767-3432 ext. 216

EMAIL: [email protected]

Family: "It's my wife and I plus I have a grown son and a beautiful granddaughter."

Nickname: Red

Birthday: December 6

Birthplace: In a van, down by the river.

Last Book Read: "The Traveler's Gift" by Andy Andrews

Favorite Book: "The Bible"

Favorite Musician: "A little Elvis never hurt anybody."

Favorite Movie: "I don't watch a lot of movies but I would have to say Bambi or Where The Red Fern Grows."

Favorite Vacation Spot: "Somewhere on a houseboat or a deer stand and I'm good!"

Best Automobile Advice: "If you don't like it, I wouldn't expect you to pay fifty cents for it!"

Favorite Lunch: "Deer meat, collard greens and taters. Wash it down with some sweet tea."

Favorite Website: FrankMyersAuto.com and Craigslist.com

Favorite Quote: "Herd 'em in and herd 'em out!" – Keith Bowman

Favorite Sport Team: "Is deer hunting considered a sport?" 

Favorite Car: "Car? Who wants a car. I drive trucks!"

Frank Myers Auto Maxx Team Member Since June 22 of 2008
Winston Salem, NC Car Dealership Employee Offers Personal Guarantee
"My name is Keith Bowman. I'm the Head Honcho and Spiritual Advisor here at Frank Myers Auto Maxx. I understand that most people hate buying a used car in Winston-Salem (or anywhere else in the Triad). It's a fact. But would you be surprised to find out that buying a car can actually be dangerous?
It's true. Some unruly car dealers have actually held customers "hostage" at their dealership. Here's how it works: First you hand your keys to the salesperson to have your car appraised. Then you go on a test drive.
When you come back after your test drive you begin haggling over the price of the car. Then the salesperson starts pressuring you to buy the car. You decide you've had enough and stand up to leave. Then you realize…they still have your keys.
Next thing you know, the salesperson plays dumb and can't find your keys. Now you're stuck there and the pressure to buy a car remains.
This isn't fun. And it isn't fair. You deserve better than this. You deserve to be treated with kindness and consideration. And if you have an embarrassing credit problem or owe too much on your trade in, a professional car dealer will help you solve those problems – not try to sweep them under the rug and bully you into a car you don't want.
At Frank Myers Auto, we dedicate ourselves to helping good people – like you – overcome their transportation challenges and find the right vehicle for your family – not the vehicle we want to sell you.
I believe in helping you make buying a car fast, easy and fun. That's why we created a free consumer report called, "8 Keys To A Better Car Deal." (Get your copy HERE.)
And when you buy a certified used car a Frank Myers Auto, you'll be rewarded with a FREE Lifetime Warranty and our Iron-Clad Money Back Guarantee.
So call or come in today! It will be the most enjoyable car buying experience ever – I personally guarantee it."