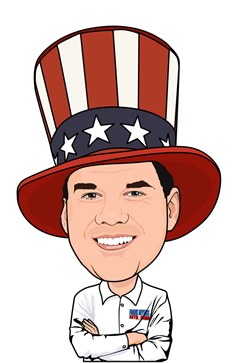 "Mastermind of Possibilities"
DIRECT:

(336) 767-3432 ext. 205

EMAIL: [email protected]

Family: "I've got a son and his name is Ethan."

Nickname: Bodie

Birthday: June 10

Birthplace: High Point, NC

Last Book Read: "The Traveler's Gift" by Andy Andrews

Favorite Book: "The Bible"

Favorite Musician: Hank Jr.

Favorite Movie(s): "Vacation" & "Elf"

Favorite Vacation Spot: The beach

Favorite TV Show: Two & a Half Men

Favorite Lunch: "If it's fried…"

Favorite Website(s): FrankMyersAuto.com

Favorite Quote: "Don't go around saying the world owes you a living. The world owes you nothing. It was here first." – Mark Twain

Favorite Sport Team(s): Carolina Panthers, Atlanta Braves & UNC Tarheels

Favorite Non-Work Related Activity That Can Be Discussed On This Website: Golf

Frank Myers Auto Maxx Team Member Since December of 2009.
High Point Auto Industry Professional Turns Industry 'Upside Down' With Help Of Uncle Frank
After being in the car business for more than 15 years, one ambitious automotive salesperson decided that there had to be a better way. That person was John Bodenhamer.
Bodenhamer had seen people endure high pressure tactics, suffer the indignity of the credit approval process, and the abuse of their trust they had placed with unscrupulous car dealers.  He decided that  people should be to have a more pleasant car buying experience while still having the ability to own a vehicle at competitive prices, be able to choose from great inventory and get a wide variety of credit options.
Many said that it couldn't be done because car dealers have been operating the same way forever. However, Bodenhamer joined the Team at Frank Myers Auto Maxx and together they're proving all of the naysayers wrong. And the local competition isn't too happy about their success.
"We have found new ways to meet the demands of our customer," stated Bodenhamer, self-proclaimed Mastermind Of Possibilities at Frank Myers Auto Maxx. "Car dealers have always had their arsenal of aggressive sales tactics including trying to sell the consumer something they don't won't or can't afford."
He talked about the aversion that many people experience when deciding to buy a car. And for good reason. "Lots of car dealers use manipulative selling techniques to get you to sign on the bottom line," says Bodenhamer. With nearly 15 years experience in the car business, John understands the car buying process and his experience taught him what needed to change. "It should be all about the customer," stated Bodenhamer empathetically.
"Your customer is entitled to the best experience you can give them during and after the sale," says Bodenhamer. "But, 'after the sale' is when most car dealers usually fall down. They usually blow it. I feel that is where the Frank Myers Auto Maxx Team excels. After all, the Myers family has been serving folks in the Triad for more than 82 years. They're not going to stop now."
Most people will admit to a certain amount of worry and anxiety when buying a car. And most people dread the traditional car buying experience.
These are the consumers for which Frank Myers Auto Maxx developed their new approach. These are consumers who are seeking a more respectful approach to the process of buying a vehicle. Bodenhamer believes that this new approach will turn the industry on its ear.
After 24 consecutive months of record growth, things are going well at Frank Myers Auto Maxx. So well, in fact, that Bodenhamer invites you to stop in and take the 'Bodie Challenge'.
"If you drop by the dealership and your experience isn't fair, firm and friendly, I'll give you a chance to win a $300 Best Buy gift card by playing Tri-Plinko. I don't think I'll be giving away many gift cards," added Bodenhamer. "That's how confident I am in our new customer friendly process."